Posts for: July, 2012
By Willlam Renner Pediatric Dentistry
July 27, 2012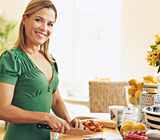 Junk food and between-meal sweets are a habit for many of us, even though we know it is bad for our bodies and our teeth. As adults, we are responsible for our own choices. As parents, we are also responsible for our children's choices, and for teaching them to choose wisely.
Celebrity Chef Cat Cora offers the following six suggestions for leading children to a healthy lifestyle. Cora is a star of Iron Chef America and author of Cat Cora's Classics with a Twist: Fresh Takes on Favorite Dishes, in which she reveals healthier versions of classic recipes. In her remakes she shows how to cook with a lot of flavor while reducing fat and sugar. Cora has four young sons, so her methods are not just theories — they have been practiced in real life.
1. Remember who's the boss.
"My kids have never had fast food," Cora said in a recent interview with Dear Doctor magazine. "The parents have a choice to do that or not," she said. "The kids are not going to the grocery store to shop; the kids are not driving themselves through fast food chains."
2. Make your rules clear and stick to them.
"Right now my 7-year-old tries to be picky, but it's really about us being consistent as parents," Cat said. For example, in her household pizza is served only at the weekly pizza and movie night. The kids get a healthier version of what they want, so they don't feel deprived. The evening includes air-popped popcorn without butter — and no soda, which is bad for teeth because of its sugar and other chemical ingredients.
3. Offer your children a variety of foods and tastes.
Cora made sure her children tried different foods and spices from infancy, so they are open to trying new things. It's easier to get all the nutrition you need if you eat a wide variety of foods.
4. Learn to make tasty substitutions for sugar.
When her children were babies, Cora stopped relying on bottles and sippy cups as soon as possible, reducing her children's likelihood of developing tooth decay due to sugary residues remaining in their mouths. Now that they are older, she uses tasty substitutes for sugar such as fruit purees and the natural sugar substitute Stevia.
5. Include the children in meal planning.
Kids are more likely to eat a meal they are involved in planning and cooking. For example, ask them which vegetable they would like to have (not whether they want to have a vegetable).
6. Model healthy behavior for your kids.
Parents are the best role models. This is true not only for food choices, but also for exercise and maintaining a healthy lifestyle.
Contact us today to schedule an appointment to discuss your questions about oral health. You can also learn more by reading the Dear Doctor magazine article "Cat Cora."
By Willlam Renner Pediatric Dentistry
July 12, 2012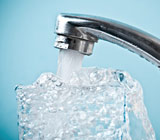 The CDC (Centers for Disease Control and Prevention) calls fluoridation of drinking water one of the ten most important public health measures of the 20th century, along with such measures as vaccination and motor-vehicle safety.
A fluoride concentration of about one milligram per liter (1 mg/L), or 1 part per million (1ppm), in the water supply is associated with substantially fewer cavities. This concentration of fluoride (equivalent to a grain of salt in a gallon of water) has been found to have no negative health effects.
The connection between fluoride and oral health was confirmed in the first half of the 20th century, and by 1955 the first clinically proven fluoride toothpaste was launched. Fluoride-containing toothpastes are common today, along with other fluoride-containing products.
Protective Effects of Fluoride
Ongoing studies have shown that fluoride has both a systemic (through the body) effect and a local effect at the tooth surfaces. Tooth decay takes place as part of a kind of active war between de-mineralization and re-mineralization, in which acids produced by bacteria in plaque (a biofilm in your mouth) soften and dissolve the minerals (de-mineralization) in the tooth's surface. At the same time, the saliva bathing the tooth acts to re-harden the tooth's surface by adding minerals back (re-mineralization). If fluoride is present in the biofilm and in the saliva, it protects against de-mineralization.
The fluoride you drink in your water is deposited in your bones. Bone is an active living substance that is constantly broken down and rebuilt as a normal body process. As this happens the fluoride is released into the blood, from which it can enter the saliva and act on the tooth surface. The fluoride in toothpastes and products like rinses is delivered directly to the tooth surface. Fluorides can also be eaten in foods with high fluoride content such as teas, dry infant cereals and processed chicken, fish and seafood products.
Problems with Over-use
Eating or swallowing too much fluoride can contribute to a discoloration of teeth called dental fluorosis, which varies in appearance from small white striations to stained pitting and severe brown mottling of the enamel. To avoid this effect, monitor children's tooth brushing to make sure they use only a small amount of fluoride toothpaste and do not swallow it.
Adding fluoride to water has been controversial because some people believe that it may cause other harmful effects. However, most health experts believe that fluoridated water carries no significant health risks and significantly contributes to public health by preventing tooth decay.
Contact us today to schedule an appointment to discuss your questions about fluoride. You can also learn more by reading the Dear Doctor magazine article "Fluoride & Fluoridation in Dentistry."