Posts for: October, 2012
By Willlam Renner Pediatric Dentistry
October 26, 2012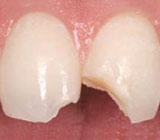 Your son just crashed his skateboard and cracked a tooth, or maybe your daughter fell off the monkey bars at school and now has a chipped front tooth. For children, and some adults, repairing chipped or damaged teeth with tooth-colored restorative materials directly bonded to the teeth may be the perfect solution to restore their smiles.
What is Involved: Composite bonding is a technique that has been developed to correct chipped teeth and other minor dental imperfections. It may also be used to correct mild crookedness or gaps between teeth. The procedure requires the application of a tooth-colored composite resin material to the surfaces of teeth, which is then sculpted to the desired shape. It can be performed in a single visit for one or multiple teeth. The procedure usually takes between one and two hours, and the end result is a beautiful, natural-looking smile.
Advantages for Kids and Adults: Composite resin bonding is a good choice for kids and teens since their jaws are still growing and developing, and they may still be engaged in high-risk activities. After your child's teeth and jaws are fully developed, we can discuss options for more permanent restorations such as porcelain veneers or crowns. These require removal of more tooth structure, which could compromise the long-term health of your child's teeth if done too soon. Composite resin restorations, which bond straight to the teeth and require little to no tooth preparation or drilling are therefore a good option for fixing chipped teeth, and they're less expensive than choosing veneers.
Disadvantages: The longevity of composite resin restorations is related to how well you maintain your teeth. Many people can go for ten or fifteen years before they need to have the bonded resins repaired or replaced. Others will tend to stain and wear after only one or two years and will need some touch-up work.
Contact us today to schedule an appointment to discuss any questions you may have regarding dental bonding. Read more about this topic in the Dear Doctor magazine article "Repairing Chipped Teeth."
By Willlam Renner Pediatric Dentistry
October 11, 2012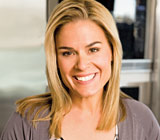 When asked about her dazzling white smile, Cat Cora, the first female iron chef on the hit television series Iron Chef America, freely admits to maintaining the brightness of her smile with professional whitening sessions.
"With what I do, whitening your teeth is like getting your hair done, your nails done and everything else you have to do to be on television," Cat recently told Dear Doctor magazine. However, she does have her limits. "I want my teeth to be white and healthy looking — but not stark white or looking like they could glow in the dark," she said with a laugh.
Cat's perceptions and experiences with tooth whitening may accurately describe Hollywood, but through the power of media, celebrities and their respective fan bases, having attractive white teeth has become a goal for most people. This is because white teeth are subconsciously associated with youth and virility.
Here in the dental office, we can use professional-strength "power bleaching" to whiten teeth several shades in a single visit. To prevent irritation to the area surrounding the teeth being treated, we isolate the gums and skin of the mouth with a protective gel or a rubber barrier known as a dental dam. After the whitening solution is placed on the teeth, the process may be supplemented by heat or a light source to activate or enhance peroxide release.
For bleaching teeth at home, our office can make custom-fitted bleaching trays that you fill with a gel form of carbamide peroxide. Sometimes this whitening gel can cause a temporary tooth sensitivity to hot and cold, but this normally lasts for no more than four days after you stop bleaching your teeth.
To learn more about tooth whitening, you can continue reading the Dear Doctor magazine article "Teeth Whitening." Or you can contact us today to schedule an appointment so that we can conduct a thorough examination and discuss what treatment options will be best for you. And to read the entire interview with Cat Cora, please see the article "Cat Cora."