Posts for: November, 2012
By Willlam Renner Pediatric Dentistry
November 26, 2012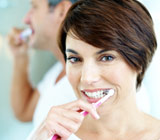 Gum disease (gingivitis) and tooth decay are primarily caused by dental plaque. Dental plaque is a whitish, sticky film that accumulates daily along the gumline and on the surfaces of your teeth. Composed of bacteria, it is controllable through good oral hygiene habits — most importantly, effective brushing.
Controlling plaque and preventing gingivitis and tooth decay will make it more likely that you keep your teeth through your lifetime and will also improve your general health. Scientific studies have linked gum disease and diseases of the heart and circulatory system.
"I know how to brush my teeth. I've been doing it since I was a toddler," you may be saying. But you may not be performing this daily ritual in the most effective way.
Let's take another look at tooth brushing. First, your grip: Hold the brush in your fingertips with a light pressure. Position the brush so the bristles are at a 45 degree angle to your gumline, and then brush with a gentle scrubbing motion. Don't scrub too hard, or you may damage your sensitive gum tissue.
Some electric brushes can remove plaque more quickly than a regular hand-held brush, but if you brush well any kind of brush works. A brush will last several months. Get a new one when the bristles become worn or splayed out.
Use a toothpaste that contains fluoride. When used consistently, fluoride toothpastes make your teeth more resistant to decay. Spit out the toothpaste after brushing, but don't rinse or you will wash the fluoride away.
After brushing, complete your cleaning job by using floss to clean between your teeth where the brush does not reach. Wrap it in a "C" shape around each tooth and move it vertically up and down, removing plaque from the tooth surfaces where your teeth meet. You can also use an antibacterial mouth rinse.
Thoroughly clean your teeth at least once a day, brushing and flossing. A plaque film takes 12 to 24 hours to form itself again.
To be certain you are brushing correctly, ask our office or one of our hygienists to demonstrate brushing techniques for you in your own mouth. You can also assess the quality of your brushing technique by checking with your tongue after brushing to make sure your tooth surfaces feel smooth and slick. Your gums should not bleed after brushing. Bleeding is a sign of infection. If you have a habit of consistent brushing but your gums continue to bleed, it's time for a visit to our office.
Contact us today to schedule an appointment to discuss your questions about oral hygiene. You can also learn more by reading the Dear Doctor magazine article "Oral Hygiene Behavior."
By Willlam Renner Pediatric Dentistry
November 08, 2012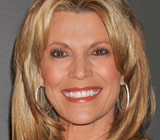 As the co-host of one of America's most beloved television game shows, Wheel of Fortune, Vanna White is recognized for her beautiful gowns and her dazzling smile. However, during an exclusive interview with Dear Doctor magazine, she shared her experiences with cosmetic dentistry. "I had a bridge put in probably 30 years ago where I had a tooth pulled and there was a space," Vanna said.
Prior to having a permanent tooth pulled, most people are concerned with what can be done to replace it. It's important to follow through and do exactly that. This is especially true with back teeth. Just because you can't see them, it doesn't mean you won't face problems if they are not replaced.
For example, did you know that missing posterior (back) teeth can lead to a wide array or problems with the remaining teeth, muscles, ligaments, joints and jaw bones? This includes:
A decrease in chewing efficiency that in turn can impact your diet, nutrition and overall health
Excessive erosion or wear of remaining teeth
Tipping, migration, rotation and even loss of adjacent remaining teeth
Painful jaw problems such as Temporomandibular Dysfunction (TMD)
One treatment option is to follow in Vanna's footsteps and consider a fixed bridge. This is an excellent option when dental implants won't work. And through our artistry, we can easily blend them in color and appearance with your surrounding teeth.
When implants are possible, they represent the best option. They are easily maintained and are a durable, long-lasting solution that can increase bite support.
To learn more about this topic, continue reading the Dear Doctor magazine article "Replacing Back Teeth." Or if you are already missing a permanent tooth, you can contact us today to schedule an appointment so that we can conduct a thorough examination. We will also address any questions you have as well as your treatment options. And if you want to read the entire feature article on Vanna White, continue reading "Vanna White."