Posts for: December, 2012
By Willlam Renner Pediatric Dentistry
December 29, 2012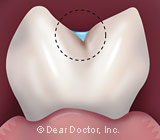 Protecting your children is one of your most important roles as a parent or caregiver. Dental sealants are one way you can protect your children's teeth from the ravages of tooth decay, drilling and fillings — and they can be applied simply, comfortably and quickly right here in our office.
What is a dental sealant?
A dental sealant is a thin, plastic film that is painted onto the tiny grooves on the chewing surfaces of the back teeth (usually the premolars and molars) to prevent caries (cavities) and tooth decay. And by allowing us to use sealants to seal these little nooks and crannies where your child's toothbrush can't reach, you will dramatically reduce their chances for developing tooth decay. This one, simple and quick office visit could save you both money and time with fewer dental visits and healthier, cavity-free teeth.
So will sealants guarantee no (or no more) cavities?
No, just like life, there are few guarantees. Your child's oral hygiene, regular dental visits, fluoride, sugar consumption and genetics are the other important factors that will determine to what degree your child experiences tooth decay. However, research shows that pit and fissure (chewing surface) decay accounts for approximately 43% of all decayed surfaces in children aged 6 to 7, even though the chewing surfaces (of the back or posterior teeth) constitute only 14% of the tooth surfaces at risk. This demonstrates the vulnerability of the chewing surfaces of the posterior teeth to decay. By placing a protective seal over the areas of teeth at risk, you can effectively and proactively protect your children's teeth.
How long do sealants last?
Research has shown that some sealants can last up to 10 years. However, if you opt for sealants for your children's teeth, we will closely monitor them with each office visit to ensure that they are still doing their job. As needed, we can apply more sealant.
By Willlam Renner Pediatric Dentistry
December 11, 2012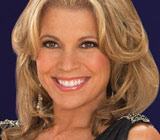 Describing Vanna White, co-host of the hit television game show Wheel of Fortune as friendly is an understatement. Yes, a good portion of the credit goes to her bubbly personality; however, you can't look at her without noticing her world-famous smile.
During an interview with Dear Doctor magazine, Vanna shared some of the secrets to her trademark smile. Secrets that she is instilling in her children.
"I floss every day and I brush my teeth at least twice a day — morning and night — and sometimes after lunch." She added, "I think that flossing is the most important thing. I believe that dental floss helps a lot, as it keeps your gums strong and looking younger." And when asked about how often she has her teeth professionally cleaned she replied, "...every four to five months because I get a lot of plaque buildup."
A typical dental hygiene visit is one that involves prophylaxis, a dental (and insurance) term for scaling and or polishing procedures to remove plaque and calculus (tartar) from the crown or portion of the tooth that you can see. Scaling is a procedure where we use special hand-held instruments and/or ultrasonic scalers to remove plaque, bacteria and tartar that can coat your teeth causing them to feel rough or fuzzy. To polish your teeth, we use a rubber polishing cup, prophy paste and a motorized instrument that removes bacterial plaque and surface stains. This is usually the last portion of a routine cleaning because it leaves your teeth feeling smooth and shiny.
However, if you have been seeing blood when you brush your teeth or while flossing, you have the telltale signs of periodontal (gum) disease. During your cleaning appointment, we will clean below the gum line to treat and manage your periodontal disease (an infection of the gum and jaw bones). We may also discover that additional, deep-cleaning treatments (such as root planing) may be needed to treat and manage your periodontal disease.
To learn more about this topic, continue reading the Dear Doctor magazine article "Teeth Polishing." Or you can contact us today to schedule an appointment so that we can conduct a thorough examination and cleaning. And if you want to read the entire feature article on Vanna White, continue reading "Vanna White."