Posts for: November, 2013
By Willlam Renner Pediatric Dentistry
November 27, 2013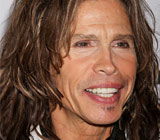 Rock star Steven Tyler fell and broke his two front teeth while on tour with his band Aerosmith not long ago. But Tyler was back on stage the very next day, thanks to modern dental implant technology.
Dental implants are the most optimal tooth replacement system in use today. The reason we say "system" is because replacing teeth with implants involves two, or sometimes three, components: the implant itself, which replaces the root-part of the tooth; the dental crown that sits on top of it to replace the part of the tooth that's visible in the mouth; and a connecting piece placed in between the implant and crown, known as an abutment.
The implant itself, made of titanium, is placed directly into the jawbone with a minor surgical procedure. Titanium has the unique ability to fuse to bone, creating a very strong connection. An implant provides virtually the same function as a natural tooth root, including stabilizing the bone underneath and preventing its loss — something that naturally occurs when a tooth is lost.
This fusion process takes a period of weeks, which is why the implant needs time to heal before a permanent crown is attached. One reason for early implant failure is "loading" them with biting forces too soon. But in experienced hands, implants are extremely successful. Documented research and clinical studies indicate success rates of over 95% — which is higher than any other tooth replacement option. Once integrated and functional, implants can last a lifetime. That's why, though they are a bit more expensive initially than other tooth-replacement options, they are more cost-effective in the long term.
Of course, another advantage of implants is that they look and feel completely natural. Just ask Steven Tyler!
If you would like more information about dental implants, please contact us or schedule an appointment for a consultation. You can also learn more by reading the Dear Doctor magazine article "Dental Implants." Dear Doctor also has more on "The Hidden Consequences of Losing Teeth."
By Willlam Renner Pediatric Dentistry
November 12, 2013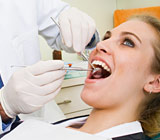 That "squeaky clean" feeling on your teeth might be the most noticeable result of a professional cleaning performed by a dental hygienist. Rest assured, though, there's more to it — regular professional cleanings yield long-term benefits to your oral health.
A basic procedure known as coronal cleaning removes plaque (bacteria and leftover food deposits) on the crowns, the visible portion of the teeth. If you are showing signs or are at risk for gum disease (a bacterial infection of the gum tissue) your hygienist may also initiate cleaning below the gum line with a procedure called scaling. This common technique removes plaque and tartar (hard deposits) above and below the gum line using either a traditional set of hand instruments (known as curettes) or an ultrasonic scaler, a device that uses vibrations from ultrasonic frequencies and water to remove plaque and tartar.
Root planing takes the cleaning even deeper, using curettes to remove plaque and tartar adhering to tooth roots. This is typically necessary for patients with advanced gum disease, and may need to be repeated over a number of visits as inflammation subsides.
Polishing is another common hygienic procedure performed both above and below the gum line. It's the procedure you most associate with that feeling of smoothness after a cleaning. The hygienist will typically apply to the teeth polishing paste held in a small rubber cup attached to a motorized device. As the motor rapidly rotates the rubber cup, the paste works into the teeth to remove surface stains and bacterial plaque. While it's considered a cosmetic procedure, it's more accurately defined as a prophylaxis, a dental term derived from the Greek meaning to guard or prevent beforehand.
Professional cleaning performed by a dental hygienist is only one half of an overall hygiene plan; the other half is your own daily habit of brushing and flossing. Both your daily hygiene and regular dental checkups and cleanings will go a long way toward preserving your teeth as they were meant to be — for a lifetime.
If you would like more information on teeth polishing, please contact us or schedule an appointment for a consultation. You can also learn more about this topic by reading the Dear Doctor magazine article "Teeth Polishing."