Posts for: April, 2014
By Willlam Renner Pediatric Dentistry
April 24, 2014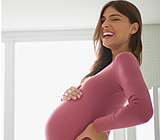 A woman during pregnancy naturally pays close attention to her general health, instinctively knowing it affects her developing baby. Ironically, it's also common for a woman during pregnancy to neglect her dental health, due to new physical restraints and fatigue that make regular tasks more difficult and tiring.
But pregnancy is no time to drop your guard: due to hormonal changes, a woman is more susceptible to disease and tooth decay. This can lead to increased sensitivity and gum inflammation that may develop into what's known as pregnancy gingivitis. This is of great concern during pregnancy, as the oral bacteria responsible for gum disease can cross over from mother to baby through the placenta. This could cause an inflammatory response by the mother's body that might result in a preterm birth with a low birth weight for the baby.
There are some things you should do to maintain vigilance. First, you should schedule an appointment with us at the beginning of your pregnancy to discuss and prepare a dental care plan. We can advise you more fully about how pregnancy affects your dental health and what we can both do about it.
A healthy diet from the beginning and throughout pregnancy will provide your child with the nutritional building blocks for his or her developing teeth, which begin to form around the sixth week. You may also develop cravings for certain foods, especially sugary or starchy snacks, which increase your risk of tooth decay. If at all possible, try to limit your intake of these kinds of foods or substitute raw fruits, vegetables or dairy products instead.
Oral hygiene is critical during this time in your life. Daily gentle brushing with a soft bristle toothbrush and flossing will help reduce the level of bacteria that causes gum inflammation. And, if you do notice sensitivity, swelling or bleeding from the gums, you should visit us as soon as possible for examination and treatment. It's also very important during your pregnancy that you schedule regular cleaning appointments. Because of hormonal changes, it's common for gum inflammation to become exaggerated making you more vulnerable to bone loss.
Remember: caring for your oral health when you are pregnant is just as important for your baby as it is for you.
If you would like more information on the relationship between pregnancy and oral health, please contact us or schedule an appointment for a consultation. You can also learn more about this topic by reading the Dear Doctor magazine article "Pregnancy and Oral Health."
By Willlam Renner Pediatric Dentistry
April 09, 2014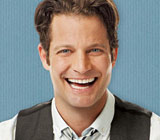 Design expert and television celebrity Nate Berkus has definite ideas about how to live. In a recent interview, he explained his ideas on design. He also talked about health, and how he keeps his teeth and mouth healthy.
From an initial design makeover that he did eight years ago on the Oprah Winfrey Show, Berkus has gone on to do 127 such makeovers. He was such a success that he now hosts his own daily talk show. He has also developed a line of home products for the Home Shopping Network and has his own design firm, Nate Berkus Associates. His clients include well-known restaurants and hotels as well as private homes. He has written articles for O Magazine and authored a book on the subject of transforming your home into a place you love.
"I realized many years ago that I wasn't going on Oprah to pick sofa colors and paint chips. I was there to lift people up through the way they live," he says. His secret to design success is to "go with what you love." He says, "Don't worry about mixing metals, eras or styles. If you love each item, you'll find a way to make it work."
His common sense practical attitude continues when it comes to dental health. Berkus is blessed with a healthy mouth and teeth. He doesn't feel anxious when visiting the dentist because he usually has a good report. He has not needed orthodontics or cosmetic dentistry. He thanks his childhood dentist for giving him fluoride treatments and sealants, and for teaching him healthy dental hygiene habits.
Berkus brushes his teeth twice or even three times a day, with a manual or electric toothbrush — depending on whether he is at home or traveling. He also follows his dentist's advice about flossing: "Floss the ones you want to keep!" He says that he tried tooth whitening once, but he felt that the whiteness was "too white." Now he simply works to maintain his natural tooth color and smile.
Contact us today to schedule an appointment to discuss your questions about maintaining healthy teeth. You can also learn more by reading the Dear Doctor magazine article "Nate Berkus, Helping Others Love the Way They Live."