Posts for: June, 2014
By Willlam Renner Pediatric Dentistry
June 17, 2014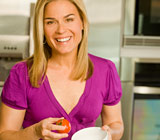 Cat Cora is a world-class chef, restaurateur, best-selling author, and philanthropist — on top of being the first female chef on the hit television show Iron Chef America. She is also the mother of four active young sons. And while all these important roles require her daily attention, she makes oral health a top priority for herself and her family through diet, brushing, flossing and routine visits to the dentist.
During a recent interview with Dear Doctor magazine, Cat revealed that she had her wisdom teeth removed when she was in her thirties and another tooth extracted and replaced with a dental implant. When asked to compare the two experiences, Cat said that the implant was "much easier for me." She went on to say, "It feels very natural" and "now, I don't even think about it."
Some may be surprised by Cat's response; however, we find it to be a quite common one.
There is no question that over the last two decades, dental implants have revolutionized tooth replacement and the field of dentistry. A dental implant, used to replace missing teeth, is placed in the jawbone with a minor surgical procedure. What's amazing is that over time these dental implants actually fuse with or integrate into the bone, thus making them an ideal permanent solution for replacing a missing tooth. They are typically made of commercially pure titanium, a substance that has been used for medical and dental implants for years. The crown, the part above the gum tissues, is attached to the implant via a retaining screw and a connecting piece called an abutment. The crown itself is artistically crafted using porcelain to mimic the look and feel of a natural tooth — just as Cat Cora describes.
To learn more about dental implants, continue reading the Dear Doctor magazine article "Dental Implants, Your Third Set of Teeth." Or you can contact us today to schedule an appointment so that we can conduct a thorough examination and discuss what treatment options will be best for you. And to read the entire interview with Cat Cora, please see the article "Cat Cora."
By Willlam Renner Pediatric Dentistry
June 02, 2014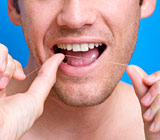 Your gums are red around the margins and bleed whenever you brush or floss but there's minimal to no pain... You: (select the most appropriate answer[s])
are brushing or flossing too vigorously
have an accumulation of dental plaque where the teeth meet the gums
are using a toothbrush that's too firm
are experiencing early signs of gum disease
should see your dentist if this persists for more than 6 months
Kudos if you picked b) and d). The most common cause of bleeding gums is the accumulation of dental plaque (bacterial deposits) at the gum line, which is an early sign of periodontal (from the Latin "peri" – around, and the Greek "odont" – tooth) disease. It is usually painless so people tend to underestimate the risk of allowing gum disease to progress and become a more significant problem.
It's a common misconception that bleeding gums are caused by brushing or flossing too vigorously or using a toothbrush that's too firm. This is sometimes the case, but the abrasion would probably cause noticeable pain. Instead, it's likely that you're not brushing and flossing effectively enough, allowing bacterial deposits to accumulate at the gum line and feed on food particles that haven't been adequately flushed from your mouth.
The bacterial deposits form a whitish film that is hard to detect when you look in the mirror. But you will notice bleeding and redness and eventually inflammation of the gums — an immune response to disease-causing bacteria that flourish in the plaque. As the biofilm grows, with time it also hardens (calcifies), making it increasingly difficult to dislodge. Eventually, only professional cleaning can remove it and sometimes antibiotics are needed. If no action is taken, gum disease will progress, and eventually cause loss of the underlying bone that anchors the teeth.
There are other reasons that gums may bleed, such as elevated hormone levels in women, a side effect of certain medications, or a systemic (bodily) disease. Whatever the cause, it's important to get a professional diagnosis promptly and take appropriate therapeutic action as needed. Optimally, with good oral hygiene and regular checkups, you can avoid this problem entirely!
If you would like more information about preventing or treating bleeding gums, please contact us or schedule an appointment for a consultation. You can also learn more about this topic by reading the Dear Doctor magazine article "Bleeding Gums."