Posts for: July, 2014
By Willlam Renner Pediatric Dentistry
July 17, 2014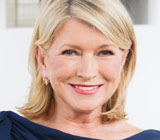 Martha Stewart has built a flourishing career by showcasing the things she's designed and made — like floral arrangements, crafts, and even home renovations. Just recently, she was showing off her latest restoration project: a new dental bridge. In fact, she live-tweeted the procedure from her dentist's office… and she even included pictures of the bridgework before it was placed on her teeth!
OK, it's a departure from paper crafts and home-made pillows… but why not? We can't help feeling that there's just as much craftsmanship — even artistry — in dental bridgework as there is in many other custom-made items. If you learn a little more about what goes into making and placing bridgework, perhaps you'll understand why we feel that way.
Bridgework is one good solution to the problem of missing teeth (another is dental implants). A fixed bridge is anchored to existing teeth on either side of the gap left by missing teeth, and it uses those healthy teeth to support one or more lifelike replacement teeth. How does it work?
Fabricated as a single unit, the bridge consists of one or more crowns (caps) on either end that will be bonded or cemented to the existing teeth, plus a number of prosthetic teeth in the middle. The solid attachment of the crowns to the healthy teeth keeps the bridge in place; they support the artificial teeth in between, and let them function properly in the bite.
Here's where some of the artistry comes in: Every piece of bridgework is custom-made for each individual patient. It matches not only their dental anatomy, but also the shape and shade of their natural teeth. Most bridges are made in dental laboratories from models of an individual's teeth — but some dental offices have their own mini-labs, capable of fabricating quality bridgework quickly and accurately. No matter where they are made, lifelike and perfect-fitting bridges reflect the craftsmanship of skilled lab technicians using high-tech equipment.
Once it is made, bridgework must be properly placed on your teeth. That's another job that requires a combination of art and science — and it's one we're experts at. From creating accurate models of your mouth to making sure the new bridge works well with your bite, we take pride in the work we do… and it shows in your smile.
If you would like more information about dental bridges, please contact us or schedule an appointment for a consultation. You can learn more by reading the Dear Doctor magazine articles "Fixed vs. Removable Bridges" and "Dental Implants vs. Bridgework."
By Willlam Renner Pediatric Dentistry
July 02, 2014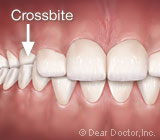 When most people think of orthodontic treatment, they may think of braces worn during the teenage years. But there are some types of malocclusions (bad bites) that may benefit from intervention much earlier than adolescence. A cross-bite is one example.
A cross-bite occurs when the front teeth of the lower arch bite in front of the upper teeth rather than behind them. The condition can have an adverse effect on any of the six front teeth of either arch. This type of malocclusion can develop quite early in childhood.
Orthodontists have developed a two-phase treatment for a cross-bite, with the possibility that the first phase may be all that's needed. If your child has a cross-bite, your orthodontist may first recommend he or she wear a specially-designed retainer for a few months. The retainer could stop and correct an existing problem before it becomes worse, or it could prevent a deeper problem from developing in the first place. The retainer could also help guide jawbone development during these formative years, even as early as age 7, for children at risk.
Even if this first phase doesn't fully correct the cross-bite and the second phase (most likely braces or a similar orthodontic device) becomes necessary, it could still help to make the second phase easier and less costly. On the other hand, if orthodontic treatment is postponed until adolescence when the mouth structures are more fully formed it may become quite difficult or even impossible to correct the problems that have developed.
As a result, early intervention for this or similar orthodontic conditions is the most efficient strategy, even when later treatment is necessary. As part of your child's regular dental care (which should begin ideally around their first birthday), we can advise you on any need for an orthodontic evaluation based on our observations. An orthodontist can then best advise whether waiting until later for treatment is best, or whether intervention now could lessen problems later.
If you would like more information on preventative orthodontics, please contact us or schedule an appointment for a consultation. You can also learn more about this topic by reading the Dear Doctor magazine article "Preventative & Cost Saving Orthodontics."