Posts for tag: bleeding gums
By Willlam Renner Pediatric Dentistry
June 02, 2014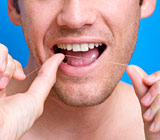 Your gums are red around the margins and bleed whenever you brush or floss but there's minimal to no pain... You: (select the most appropriate answer[s])
are brushing or flossing too vigorously
have an accumulation of dental plaque where the teeth meet the gums
are using a toothbrush that's too firm
are experiencing early signs of gum disease
should see your dentist if this persists for more than 6 months
Kudos if you picked b) and d). The most common cause of bleeding gums is the accumulation of dental plaque (bacterial deposits) at the gum line, which is an early sign of periodontal (from the Latin "peri" – around, and the Greek "odont" – tooth) disease. It is usually painless so people tend to underestimate the risk of allowing gum disease to progress and become a more significant problem.
It's a common misconception that bleeding gums are caused by brushing or flossing too vigorously or using a toothbrush that's too firm. This is sometimes the case, but the abrasion would probably cause noticeable pain. Instead, it's likely that you're not brushing and flossing effectively enough, allowing bacterial deposits to accumulate at the gum line and feed on food particles that haven't been adequately flushed from your mouth.
The bacterial deposits form a whitish film that is hard to detect when you look in the mirror. But you will notice bleeding and redness and eventually inflammation of the gums — an immune response to disease-causing bacteria that flourish in the plaque. As the biofilm grows, with time it also hardens (calcifies), making it increasingly difficult to dislodge. Eventually, only professional cleaning can remove it and sometimes antibiotics are needed. If no action is taken, gum disease will progress, and eventually cause loss of the underlying bone that anchors the teeth.
There are other reasons that gums may bleed, such as elevated hormone levels in women, a side effect of certain medications, or a systemic (bodily) disease. Whatever the cause, it's important to get a professional diagnosis promptly and take appropriate therapeutic action as needed. Optimally, with good oral hygiene and regular checkups, you can avoid this problem entirely!
If you would like more information about preventing or treating bleeding gums, please contact us or schedule an appointment for a consultation. You can also learn more about this topic by reading the Dear Doctor magazine article "Bleeding Gums."
By Willlam Renner Pediatric Dentistry
September 05, 2013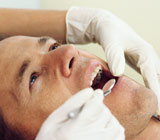 Research has shown that periodontal (gum) disease can affect the health of your whole body. Evidence suggests a relationship between severe gum disease and cardiovascular disease ("cardio" – heart; "vascular" – blood vessel), conditions that lead to heart attacks and strokes. There is also a relationship between gum disease and pregnancy; mothers with severe gum disease have a higher incidence of pre-term delivery and low birth-weight babies. To understand gum disease, you may find the following facts helpful. How many are you aware of?
Periodontal disease — Any disease that affects the areas around the teeth. The word comes from the Latin "peri" meaning around and Greek "odont" meaning tooth. Periodontal disease, or gum disease as it is commonly called, is really a group of diseases with the same outcome: destruction of the periodontal tissues, loss of supporting bone and ultimately the loss of your teeth.
Dental plaque (Biofilms) — A bacterial film that forms on teeth at the gum line, and the reason we brush and floss. Its daily removal is necessary to keep your teeth and gums healthy. A biofilm is a biological film comprised of colonies of living organisms that are generally specific to a particular eco-system. Plaque is one type of biofilm.
Gingivitis ("gingiva" – gum; "itis" – inflammation) — A response of the gum tissues to plaque biofilm that is left undisturbed (due to ineffective, or inadequate oral hygiene). It is the first stage of periodontal disease.
Pocket formation — Just like a pocket on your clothing, pocket formation is the result of separation of the gum tissues from their normally healthy tight attachment to a tooth. Pocketing allows the introduction of bacteria, which perpetuate gum disease.
Abscess — A collection of pus that forms within diseased periodontal tissues. It is experienced as pain, swelling, and discharge of pus from the gum tissues and is an advanced sign of periodontal disease.
Important Tip — Bleeding Gums when brushing teeth or flossing is not normal. It is a warning sign of early gum disease that you should bring to the attention of our office.
Contact us today to schedule an appointment to discuss your questions about periodontal disease. You can also learn more by reading the Dear Doctor magazine article "Understanding Gum (Periodontal) Disease."