Posts for tag: dental emergency
By Willlam Renner Pediatric Dentistry
January 13, 2015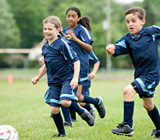 They work hard, and put in lots of time on the field and at home. They learn the rules of the game — as well as the unwritten rules of sportsmanship and teamwork. They receive the proper training, and wear appropriate protective equipment. But sometimes, in spite of everything, kids who participate in sports can be subject to injury. Fortunately, in today's dentistry there are a variety of treatments, as well as preventive measures, which can help.
When faced with serious dental injury, time is of the essence in saving teeth. So, don't delay — come in to see us immediately! If treated promptly, it's possible for teeth which have been dislodged — or even knocked out of the mouth — to be put back in position and stabilized. Afterwards, follow-up treatment will ensure that the tooth has the best chance of recovery.
The treatment of kids' dental injuries is sometimes different than that of adults. For example, in adults, a root canal would generally be necessary, followed by a tooth restoration (crown). But some kids may not need this treatment, since their teeth are still developing. Also, replacing a missing primary (baby) tooth may not be recommended, since it may hinder development of the permanent teeth. Based on his or her individual circumstances, we can develop an appropriate treatment plan for your child.
Luckily, the most common dental injuries aren't nearly as serious — they typically involve chipped or cracked teeth. Most can be repaired by reattaching the broken piece, or using a tooth-colored restoration. If a large part of the structure of a permanent tooth is missing, a crown or "cap" may be placed on the visible part, above the gum line. Smaller chips, even in primary teeth, can be successfully repaired by cosmetic bonding with composite resin materials.
Finally, if your child is involved in athletic activities — or if you are — consider obtaining a custom-made mouthguard. Numerous studies have shown that this protective gear can help prevent many dental injuries. Unlike the off-the-shelf types found in some sporting-goods stores, the ones we provide are individually fabricated from an exact model of the teeth. They're strong, fit comfortably, and offer superior protection at a reasonable cost.
If you have questions about the treatment of sports-related dental injuries, or about mouthguards, please contact us or schedule an appointment for a consultation. You can learn more in the Dear Doctor magazine articles "Trauma & Nerve Damage to Teeth" and "Mouthguards."
By Willlam Renner Pediatric Dentistry
March 22, 2013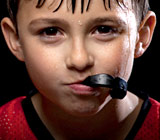 There's nothing quite like watching your son or daughter compete on the athletic field. It's a mixture of anticipation, pride — and occasionally, anxiety. Despite all the protective gear and training, kids are sometimes injured playing the sports they love. In fact, when it comes to dental injuries, teens are the most susceptible of any age group. Here's what you should know about preventing sports-related dental injuries in kids.
Of course you know that football and hockey players should always wear mouthguards, both at games and during practice. But don't forget about kids who play soccer, do gymnastics, wrestle or play basketball. According to the American Dental Association (ADA) these athletes — along with participants in about 20 other sports — also need to wear this important piece of protective gear. In fact, the ADA states that not wearing a mouthguard makes an athlete 60 times more likely to sustain dental injury!
In selecting a mouthguard, there are three basic options to choose from: the "off-the-shelf" type, the so-called "boil and bite" protector, and the custom-fitted mouthguard that we can fabricate. Let's look briefly at all three.
The first type, available at many sporting goods stores, comes in a limited range of sizes, and an unknown range of quality. It's the least expensive option, offering a minimal level of protection that's probably better than nothing.
The second type, although popular, is also limited in its protection. This one is designed to be immersed in hot water, and then formed in the mouth using finger, tongue and bite pressure. If it can be made to fit adequately, it's probably better than the first type — though it often lacks proper extensions, and fails to cover the back teeth. Also, upon impact, the rubber-like material will distort and not offer as much protection as you would like to have.
The third is a piece of quality sports equipment that's custom-made for your child's mouth (or your own). To fabricate this mouthguard, we first make a model of the individual's teeth, and then mold the protector to fit just right. Made from tough, high-quality material, it's designed to cover all teeth, back and front, without being excessively bulky. It can even be made to accommodate growing teeth and jaws. And, it's reasonable in cost.
To paraphrase the ADA's recommendation, the best mouthguard is the one you wear. A comfortable, correctly-fitted mouthguard is easy to wear — and it can help prevent dental injury, giving you one less thing to worry about. Now, if you could just get you child to keep her eye on the ball.
If you have questions about mouthguards or sports-related dental injuries, please contact us or schedule an appointment for a consultation. You can learn more in the Dear Doctor magazine articles "Athletic Mouthguards" and "An Introduction to Sports Injuries & Dentistry."