Posts for tag: dental injuries
By Willlam Renner Pediatric Dentistry
October 26, 2012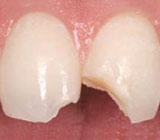 Your son just crashed his skateboard and cracked a tooth, or maybe your daughter fell off the monkey bars at school and now has a chipped front tooth. For children, and some adults, repairing chipped or damaged teeth with tooth-colored restorative materials directly bonded to the teeth may be the perfect solution to restore their smiles.
What is Involved: Composite bonding is a technique that has been developed to correct chipped teeth and other minor dental imperfections. It may also be used to correct mild crookedness or gaps between teeth. The procedure requires the application of a tooth-colored composite resin material to the surfaces of teeth, which is then sculpted to the desired shape. It can be performed in a single visit for one or multiple teeth. The procedure usually takes between one and two hours, and the end result is a beautiful, natural-looking smile.
Advantages for Kids and Adults: Composite resin bonding is a good choice for kids and teens since their jaws are still growing and developing, and they may still be engaged in high-risk activities. After your child's teeth and jaws are fully developed, we can discuss options for more permanent restorations such as porcelain veneers or crowns. These require removal of more tooth structure, which could compromise the long-term health of your child's teeth if done too soon. Composite resin restorations, which bond straight to the teeth and require little to no tooth preparation or drilling are therefore a good option for fixing chipped teeth, and they're less expensive than choosing veneers.
Disadvantages: The longevity of composite resin restorations is related to how well you maintain your teeth. Many people can go for ten or fifteen years before they need to have the bonded resins repaired or replaced. Others will tend to stain and wear after only one or two years and will need some touch-up work.
Contact us today to schedule an appointment to discuss any questions you may have regarding dental bonding. Read more about this topic in the Dear Doctor magazine article "Repairing Chipped Teeth."
By Willlam Renner Pediatric Dentistry
September 10, 2012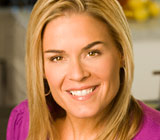 Cat Cora, philanthropist, author, chef, restaurateur and the first female chef on the Food Network's hit series Iron Chef America is a dynamo driven by a desire to change people's lives for the better. And she is no different when it comes to tackling her most challenging role: caring for the needs of her four active young sons. This includes monitoring the food they eat, their oral hygiene habits and protecting their teeth from injuries.
During an interview with Dear Doctor magazine, Cat describes a backyard accident in which one of her boys, Zoran, was accidentally knocked in the mouth by another child while jumping on the family's trampoline. While her son was not seriously injured, it did cause her to take proactive steps to avoid future injuries. She had her dentist make a custom-fitted mouthguard to protect his newly erupted adult teeth. He now wears the mouthguard while on the trampoline and when playing soccer.
If you and/or your children routinely participate in contact sports — boxing, football, hockey, lacrosse, soccer, water polo, rugby and basketball, for example — or other forms of vigorous physical activity, you too should consider getting a professionally made mouthguard. A properly fitted mouthguard can help prevent injuries to the jaws, lips and teeth. And unlike those cumbersome "boil and bite" mouthguards you can purchase at a drugstore, the ones we make will stay in place, making it easier for you to breathe and talk.
If you are still not convinced, consider these facts: According to the American Dental Association, an athlete is 60 times more likely to suffer harm to the teeth when not wearing a mouthguard. And the US Centers for Disease Control reports that sports-related dental injuries account for more than 600,000 visits to the emergency room each year. Furthermore, people who do not have a knocked out tooth properly reserved or replanted may face a lifetime cost of $10,000 to $20,000 per tooth, according to the National Youth Sports Foundation for Safety.
To learn more about mouthguards, continue reading the Dear Doctor magazine article "Mouthguards." Or if you are interested in obtaining a mouthguard for yourself and/or your child, contact us today to schedule an appointment. And to read the entire interview with Cat Cora, please see the article "Cat Cora."
By Willlam Renner Pediatric Dentistry
August 23, 2012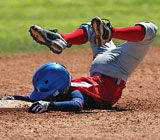 Every parent, caregiver, coach, sports fan and especially injured party dreads the moment when an injury to the mouth occurs during a sporting event. The first thought observers have after looking closely to see if it is their child or someone they know is, "I hope someone knows what to do!" Do you know what to do in case of a dental sports emergency? Test your dental injury IQ with this simple, quick quiz. The answers are listed at the bottom of this article.
Dental Injury IQ
If a tooth (including its root) is totally knocked out, what can you safely store it in while finding a dentist within 5 minutes of the injury?

Water or salt water
Milk (preferably cold)
Inside the cheek (mouth) of the injured person
All of the above

True or False: Immediately following the injury, fresh cold tap water or bottled water is the best way to remove debris from where a tooth was knocked out.
If a tooth has shifted from its original position following an injury, you should...

See a dentist within 5 minutes
See a dentist within 6 hours
See a dentist within 12 hours
Only see a dentist if the tooth is not better in a few days

True or False: You treat a knocked out baby tooth in the same manner as you do a permanent tooth.
The most important thing to do to save a tooth that has been completely knocked out of the mouth is to…

See a dentist as soon as possible
Replant the tooth within 5 minutes
Stop the bleeding before re-planting the tooth
Rinse the tooth with fresh, clean water
The Answers
1) d = all of the above, 2) true, 3) b = see a dentist within 6 hours, 4) false – baby teeth are typically not replanted, 5) b = replant the tooth within 5 minutes
Want To Learn More?
Contact us today to discuss your questions or to schedule an appointment. You can also learn more about treating dental injuries when you read the Dear Doctor article, "The Field-Side Guide To Dental Injuries." Or, you can download a FREE, pocket-sized guide for managing dental injuries.