Posts for tag: fluoride
By Willlam Renner Pediatric Dentistry
February 03, 2013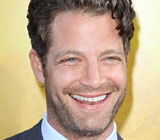 As one of America's most beloved go-to guys for inspiration on the latest interior design trends, Nate Berkus has written a highly successful book, Home Rules: Transform the Place You Live Into a Place You'll Love; he is a contributing editor to O Magazine; and he is currently hosting his own television program, The Nate Berkus Show. He is also recognized for his eye-catching smile.
During a recent interview with Dear Doctor magazine, Berkus opened up about the facts behind his trademark smile. While his smile is all-natural — he never wore braces or had any cosmetic work done — he gives credit to his childhood dentist for the preventative healthcare he received as a young boy. "I'm grateful for having been given fluoride treatments and sealants as a child," he said. Nate also shared the important flossing advice he learned from his dentist that he still follows today: "Floss the ones you want to keep."
Why is flossing so important?
Flossing is crucial because it remains the most effective method for removing plaque from between teeth, where the toothbrush can't reach. It is also an important part of keeping your gums healthy so that you can avoid periodontitis (gum disease). You should floss at least once a day either before or after you brush your teeth. If you see blood after flossing, it may indicate that you have periodontitis, or it may mean that you are flossing too harshly. Remember, you need to use a delicate hand and a proper technique when brushing and flossing to avoid damaging your teeth and gums.
To learn more about flossing, including step-by-step instructions with photos, you can continue reading the Dear Doctor magazine article "Flossing — A Different Approach." Or you can contact us today to schedule an appointment so that we can conduct a thorough examination, review your brushing and flossing techniques, and discuss any questions you have as well as treatment options. As needed, we will work with you to teach you the proper brushing and flossing techniques so that you feel confident before you leave our office. And to read the entire interview with Nate Berkus, please see the Dear Doctor magazine article "Nate Berkus."
By Willlam Renner Pediatric Dentistry
July 12, 2012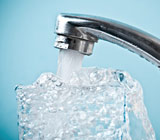 The CDC (Centers for Disease Control and Prevention) calls fluoridation of drinking water one of the ten most important public health measures of the 20th century, along with such measures as vaccination and motor-vehicle safety.
A fluoride concentration of about one milligram per liter (1 mg/L), or 1 part per million (1ppm), in the water supply is associated with substantially fewer cavities. This concentration of fluoride (equivalent to a grain of salt in a gallon of water) has been found to have no negative health effects.
The connection between fluoride and oral health was confirmed in the first half of the 20th century, and by 1955 the first clinically proven fluoride toothpaste was launched. Fluoride-containing toothpastes are common today, along with other fluoride-containing products.
Protective Effects of Fluoride
Ongoing studies have shown that fluoride has both a systemic (through the body) effect and a local effect at the tooth surfaces. Tooth decay takes place as part of a kind of active war between de-mineralization and re-mineralization, in which acids produced by bacteria in plaque (a biofilm in your mouth) soften and dissolve the minerals (de-mineralization) in the tooth's surface. At the same time, the saliva bathing the tooth acts to re-harden the tooth's surface by adding minerals back (re-mineralization). If fluoride is present in the biofilm and in the saliva, it protects against de-mineralization.
The fluoride you drink in your water is deposited in your bones. Bone is an active living substance that is constantly broken down and rebuilt as a normal body process. As this happens the fluoride is released into the blood, from which it can enter the saliva and act on the tooth surface. The fluoride in toothpastes and products like rinses is delivered directly to the tooth surface. Fluorides can also be eaten in foods with high fluoride content such as teas, dry infant cereals and processed chicken, fish and seafood products.
Problems with Over-use
Eating or swallowing too much fluoride can contribute to a discoloration of teeth called dental fluorosis, which varies in appearance from small white striations to stained pitting and severe brown mottling of the enamel. To avoid this effect, monitor children's tooth brushing to make sure they use only a small amount of fluoride toothpaste and do not swallow it.
Adding fluoride to water has been controversial because some people believe that it may cause other harmful effects. However, most health experts believe that fluoridated water carries no significant health risks and significantly contributes to public health by preventing tooth decay.
Contact us today to schedule an appointment to discuss your questions about fluoride. You can also learn more by reading the Dear Doctor magazine article "Fluoride & Fluoridation in Dentistry."