Posts for tag: pediatric dentistry
By Willlam Renner Pediatric Dentistry
September 23, 2014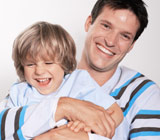 Your children's health is a major concern for you, even before they're born. That concern should include their dental health and, yes, even before they're born — a baby's primary teeth are already forming just a few weeks into pregnancy.
Here, then, are some important tips for keeping your child's dental health, before and after birth, on track.
Eat healthy during pregnancy. Your baby's teeth actually begin to mineralize around the third or fourth month of your pregnancy. You can aid this process by eating a diet rich in calcium, phosphorous and protein.
Fight tooth decay by limiting sugar. Sugar is a major contributor to tooth decay, especially in primary teeth. To reduce this risk, limit sugary snacks as much as possible, and avoid bottles filled with sugar-filled liquids (including breast milk) during your baby's sleeping hours.
Begin good hygiene early. When teeth first appear in the mouth you should begin to wipe around the teeth and gums with a water-soaked gauze pad right after feeding. As teeth develop, begin to gently brush them with a soft-bristled brush with just a smear of fluoridated toothpaste. Teach your child beginning around age 2 to brush for themselves with a pea-sized amount of paste on the brush. By age 6, they should be able to brush on their own and ready to learn flossing.
Schedule regular dental visits and cleanings. Dental checkups should begin around their first birthday and continue semi-annually. Your dentist is a key resource in monitoring tooth development, preventing disease and developing future treatment strategies.
Make your home "tooth-friendly." Your home environment can be a danger to your child's mouth. Check for hard or sharp surfaces your child could fall on and eliminate the danger — it's estimated half of dental injuries to children under seven occur near home furniture. Check your drinking water as well — does your system add fluoride, a proven cavity fighter, or do you need to find other sources?
Taking a few precautions and establishing good life-long dental habits will help ensure your child's teeth and gums remain healthy right into adulthood.
If you would like more information on oral health for children, please contact us or schedule an appointment for a consultation. You can also learn more about this topic by reading the Dear Doctor magazine article "Top 10 Oral Health Tips for Children."
By Willlam Renner Pediatric Dentistry
January 29, 2014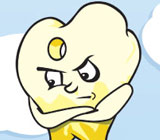 When do you think is the earliest age that tooth decay can start? Would you be surprised to learn that the answer is… just two months!
In spite of our best efforts, throughout the world tooth decay remains the most common chronic disease of childhood. And the unfortunate truth is, it's largely preventable. Tooth decay is caused by harmful bacteria living in the mouth. These bacteria produce acids as a byproduct of feeding on the sugar we consume. The acids attack the hard enamel surfaces of the teeth, eventually making the small holes we know as cavities.
For thousands of years, these bacteria have been thriving in the carbohydrate-rich environment of our mouths. Kids aren't born with these germs — often, however, they are passed directly from caregiver to child. But there are things you can do to keep from passing the bacteria to your children. For example, don't share toothbrushes; don't put items in baby's mouth after you have licked them or put them in yours; and, if you have untreated dental disease, try to avoid kissing the baby's lips. (And for goodness sake, don't pre-chew a baby's food, no matter what any celebrity may suggest.)
One effective way to control tooth decay is by reducing the amount of sugar in the diet. Sodas and candy aren't the only culprits — fruit juices are also high in sugar. And remember, it's not just what your child eats or drinks that matters, but when they consume it. Given time, saliva will neutralize and wash away the acids that bacteria produce. But if kids are constantly taking in sugar, the saliva can't keep up. So give those little teeth a break — limit sugar to mealtimes, and avoid sweet treats at other times of day.
What other steps can you take to stop tooth decay before it starts? It helps to identify kids who may be more susceptible to dental disease. Given the same diet with the same oral hygiene practices, some children are much more likely than others to develop tooth decay. If these high-risk kids receive preventive treatments — such as fluoride varnishes, help with diet modification, and other measures — early tooth decay can be successfully prevented, and even reversed in some cases.
If you're concerned that dental treatment may be too scary for little ones, you should know that we put a great deal of effort into making office visits as stress-free as possible. We have plenty of tricks to keep youngsters happy — and distracted — while we take care of business. You can help too… by maintaining a positive outlook and setting a good example.
If you would like more information about cavity prevention for children, please contact us or schedule an appointment. You can learn more in the Dear Doctor magazine article "Taking the Stress Out of Dentistry for Kids."
By Willlam Renner Pediatric Dentistry
December 29, 2012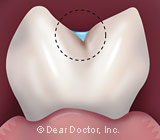 Protecting your children is one of your most important roles as a parent or caregiver. Dental sealants are one way you can protect your children's teeth from the ravages of tooth decay, drilling and fillings — and they can be applied simply, comfortably and quickly right here in our office.
What is a dental sealant?
A dental sealant is a thin, plastic film that is painted onto the tiny grooves on the chewing surfaces of the back teeth (usually the premolars and molars) to prevent caries (cavities) and tooth decay. And by allowing us to use sealants to seal these little nooks and crannies where your child's toothbrush can't reach, you will dramatically reduce their chances for developing tooth decay. This one, simple and quick office visit could save you both money and time with fewer dental visits and healthier, cavity-free teeth.
So will sealants guarantee no (or no more) cavities?
No, just like life, there are few guarantees. Your child's oral hygiene, regular dental visits, fluoride, sugar consumption and genetics are the other important factors that will determine to what degree your child experiences tooth decay. However, research shows that pit and fissure (chewing surface) decay accounts for approximately 43% of all decayed surfaces in children aged 6 to 7, even though the chewing surfaces (of the back or posterior teeth) constitute only 14% of the tooth surfaces at risk. This demonstrates the vulnerability of the chewing surfaces of the posterior teeth to decay. By placing a protective seal over the areas of teeth at risk, you can effectively and proactively protect your children's teeth.
How long do sealants last?
Research has shown that some sealants can last up to 10 years. However, if you opt for sealants for your children's teeth, we will closely monitor them with each office visit to ensure that they are still doing their job. As needed, we can apply more sealant.