Posts for tag: pregnancy
By Willlam Renner Pediatric Dentistry
April 24, 2014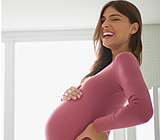 A woman during pregnancy naturally pays close attention to her general health, instinctively knowing it affects her developing baby. Ironically, it's also common for a woman during pregnancy to neglect her dental health, due to new physical restraints and fatigue that make regular tasks more difficult and tiring.
But pregnancy is no time to drop your guard: due to hormonal changes, a woman is more susceptible to disease and tooth decay. This can lead to increased sensitivity and gum inflammation that may develop into what's known as pregnancy gingivitis. This is of great concern during pregnancy, as the oral bacteria responsible for gum disease can cross over from mother to baby through the placenta. This could cause an inflammatory response by the mother's body that might result in a preterm birth with a low birth weight for the baby.
There are some things you should do to maintain vigilance. First, you should schedule an appointment with us at the beginning of your pregnancy to discuss and prepare a dental care plan. We can advise you more fully about how pregnancy affects your dental health and what we can both do about it.
A healthy diet from the beginning and throughout pregnancy will provide your child with the nutritional building blocks for his or her developing teeth, which begin to form around the sixth week. You may also develop cravings for certain foods, especially sugary or starchy snacks, which increase your risk of tooth decay. If at all possible, try to limit your intake of these kinds of foods or substitute raw fruits, vegetables or dairy products instead.
Oral hygiene is critical during this time in your life. Daily gentle brushing with a soft bristle toothbrush and flossing will help reduce the level of bacteria that causes gum inflammation. And, if you do notice sensitivity, swelling or bleeding from the gums, you should visit us as soon as possible for examination and treatment. It's also very important during your pregnancy that you schedule regular cleaning appointments. Because of hormonal changes, it's common for gum inflammation to become exaggerated making you more vulnerable to bone loss.
Remember: caring for your oral health when you are pregnant is just as important for your baby as it is for you.
If you would like more information on the relationship between pregnancy and oral health, please contact us or schedule an appointment for a consultation. You can also learn more about this topic by reading the Dear Doctor magazine article "Pregnancy and Oral Health."
By Willlam Renner Pediatric Dentistry
October 18, 2013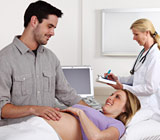 Already read every "What to Expect" book twice over? Think you know something about how pregnancy affects your teeth and gums — and vice versa? OK, ace — test your knowledge by taking the quiz below. No peeking at the answers!
Myth or fact: The calcium in baby's teeth comes from mom's teeth.
MYTH. Calcium is needed to build baby's teeth and bones, but it should come primarily from the mother's diet, not her body. If an expectant mom's diet contains too little calcium, however, this essential mineral may be supplied from calcium stored in her bones. That's one reason why a proper diet — with an adequate intake of dairy products, plus dietary supplements, if recommended — is important throughout pregnancy.
Myth or fact: Developing symptoms of periodontal disease is common during pregnancy.
FACT. The levels of many hormones, including progesterone, are higher during pregnancy. When periodontal disease is present, progesterone stimulates the body to produce prostaglandins, which cause inflammation of blood vessels in the gum tissue. This can result in a disease called pregnancy gingivitis. Excess growths of gum tissue called "pregnancy tumors" may also develop. These benign growths are probably related to dental plaque.
Myth or fact: Untreated dental infections pose a risk to the fetus as well as the mother.
FACT. Studies have shown that pregnant women with severe periodontal disease are at greater risk for preterm birth and low birth weight babies, and may be susceptible to an increased rate of pre-eclampsia, a serious complication. This seems to be due to the fact that oral bacteria can trigger inflammatory responses in other parts of the body — even the placenta. That's why a dental evaluation is so important at the first sign of a potential problem.
Myth or fact: All moms should take fluoride supplements to help their babies form strong teeth.
MYTH (for now). The benefits of parental fluoride supplements are poorly studied, and at present remain controversial. Although baby's teeth begin forming in the second month, fluoride works best after the teeth have erupted in the mouth. So, at present, this practice isn't recommended by the American Academy of Pediatric Dentistry.
Myth or fact: Once your baby is born, it's OK to feed them pre-chewed food or slobber over them.
Myth (we gave that one away). First of all, it's gross. Second, while your baby isn't born with the bacteria that cause tooth decay, this behavior can transmit them from you to her, causing dental problems down the road. So don't do it. But do come in for a dental evaluation as soon as you know you're expecting. And have a safe and healthy pregnancy!
If you would like more information about pregnancy and oral health, please contact us or schedule an appointment for a consultation. You can also learn more about this topic by reading the Dear Doctor magazine articles "Pregnancy and Oral Health," and "Expectant Mothers."
By Willlam Renner Pediatric Dentistry
January 05, 2013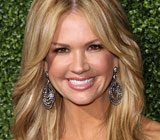 When her daughter Ashby was born in 2007, Nancy O'Dell was overjoyed; but she found the experience of pregnancy to be anxiety-provoking. O'Dell is host of the popular entertainment news show Entertainment Tonight.
After her baby was born she compiled her memories and thoughts into a book for first-time pregnant mothers. The book, "Full of Life: Mom to Mom Tips I Wish Someone Had Told Me When I Was Pregnant," covers a wide range of topics — including oral health during pregnancy.
"While my dental health has always been relatively normal, pregnancy did cause me some concern about my teeth and gums. With my dentist's advice and treatment, the few problems I had were minimized," O'Dell told Dear Doctor magazine. An example of her experience is a craving for milk that started at about the time the baby's teeth began to form. She felt that her body was telling her to consume more calcium.
As often happens with pregnant mothers, she developed sensitive gums and was diagnosed with "pregnancy gingivitis," the result of hormonal changes that increase blood flow to the gums.
"I love to smile," said O'Dell, "and smiles are so important to set people at ease, like when you walk into a room of people you don't know. When you genuinely smile you're able to dissolve that natural wall that exists between strangers."
Contact us today to schedule an appointment to discuss your questions about dental health during pregnancy. You can also learn more by reading the Dear Doctor magazine article "Nancy O'Dell."